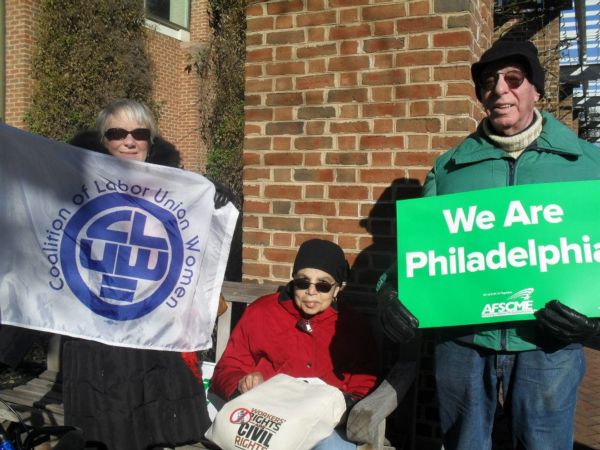 Diane Mohney, Debbie Amis Bell and John Vago at the MLK RALLY in 2013 at Independence Mall Philadelphia, PA
It is with great sadness that we report the death of our dear sister and CLUW founding member, Debbie Amis Bell, on Sunday, February 5, 2017, after a long struggle with Parkinson's Disease. She was 77.
Debbie epitomized the word "activist." She was a SNCC (Student Non-Violent Coordinating Committee) member during the 1960s, and traveled to the Jim Crow South to desegregate restaurants and participate in other SNCC programs. At one point she was arrested and spent time in solitary confinement in an Atlanta jail. Back in Philadelphia, Debbie launched her career as a Phys Ed teacher in the Philadelphia public schools, joined the union (PFT - American Federation of Teachers, Local 3), and spent the rest of her life fighting for workers, women, equality and justice, socialism and peace.
Several years ago, CLUW honored Debbie for her exemplary life and work. Though already suffering from the devastating effects of Parkinson's Disease, Debbie made a remarkable acceptance speech, calling on us all to remain vigilant and strong, and carry on the good fight. It was an arresting moment. Though her voice was raspy and subdued and her strength faltering, she stood tall and erect and projected her message to the hushed and admiring crowd. She faced her illness as she lived her whole life - with fortitude and principled determination.
Debbie is survived by her devoted husband and activist partner of more than 50 years, David Bell, their two daughters Renee and Andrea, grandchildren, siblings, and countless other relatives, friends and compatriots.
Donations in her name may be made to National Parkinson Foundation, www.parkinson.org. Philly CLUW will make a donation in Debbie's name to their important work.
For more information about Debbie's background and activist history, read this loving tribute by her dear friend and long time colleague, Jarvis Tyner.
http://www.peoplesworld.org/article/determined-to-make-a-difference-a-tribute-to-comrade-debbie-bell/
Rest in peace, dear sister, and thank you for all you have done to make the world a more just and humane place.