Rest In Peace Cathy Brady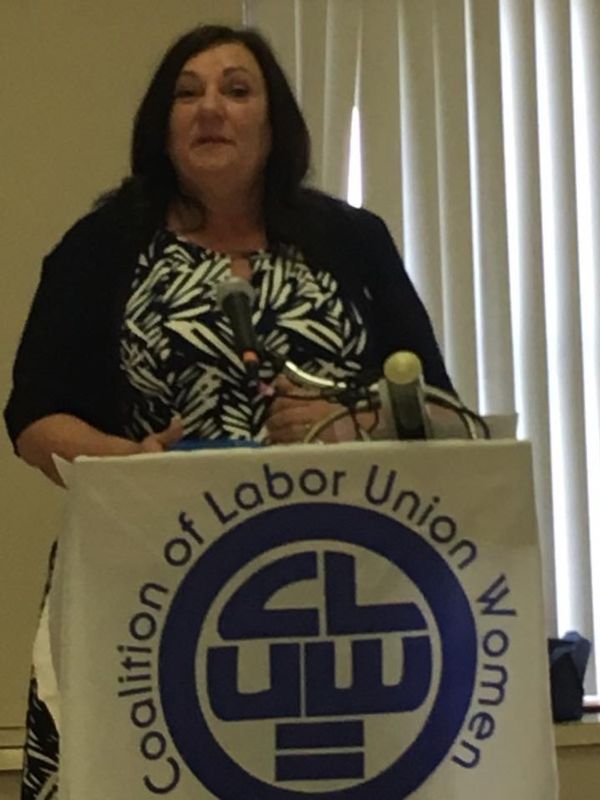 Cathy Brady receiving the 2017 Philly CLUW Union Woman of the Year Award!
We are so sorry to be the bearer of this horrifying news, but we just learned that our beloved sister, friend, colleague, Cathy Brady, died suddenly at home yesterday. Please keep her dear family, especially her children and grandchildren, in your thoughts and hearts. They are reeling, as you can imagine, as we are in her CLUW sisterhood. Cathy was a longtime CLUW Board member and two time honoree of our Chapter. We've missed her since she took her new job at the Federal Mediation Service, but were happy that she had a more relaxed schedule and time with her family these last few years. Rest in Peace, dear friend.
Cathy Brady's viewing will be Thursday, Nov. 1st, evening from 6-9 pm at White Luttrell., 311 N. Swarthmore Ave, Ridley Park. A viewing on Friday, Nov. 2nd, will take place from 9:30-10:30 am, followed by mass, all at Divine Mercy Church, 6667 Chester Ave. Philadelphia. In lieu of flowers, the family is asking for contributions in Cathy's honor to the Philadelphia Chapter of the Coalition of Labor Union Women at 22 South 22nd Street, 2nd Floor, Philadelphia, PA 19103; or the Philadelphia Horticultural Society at www.phsonline.org
http://l.facebook.com/l.php?u=http%3A%2F%2Fwww2.philly.com%2Fphilly%2Fnews%2Fcathy-brady-labor-monument-seiu-healthcare-pa-20181029.html&h=AT0L-uhyvVA9krdJ0EgRlvaEDZbPSch4HBbO_NN95V5LIfX0eYCMBTTjCzUXpvM83crpgJciaBvTlMFHQsIubaG1LGTSdkj5Ka1QWCala9BM-wYCyBpv0SJshP6VNZo&s=1